Dance your way to other cultures Featured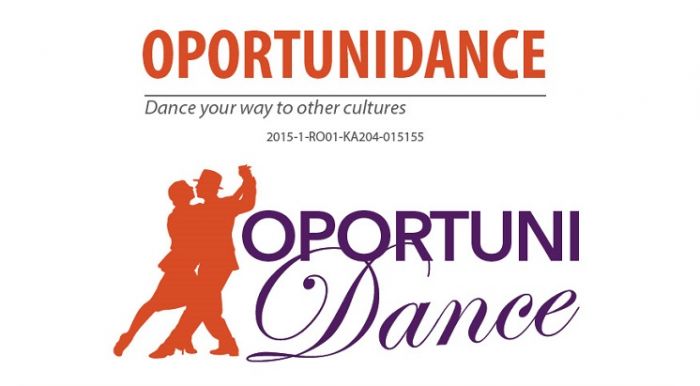 European Project No: 2015-1-RO01-KA204-015155
The life-long learning non-formal education project OPORTUNIDANCE "Dance your way to other cultures" addresses adults who are passionate by foreign languages, dancing and European culture and civilization. The project beneficiaries will improve a diversity of skills among which social interaction, communication in several foreign languages, as well as non-verbal communication through dance, active listening, self-knowledge, time and space orientation, improvisation through interaction. In the project OPORTUNIDANCE "Dance your way to other cultures", participants will get involved in motivating and innovative activities of linguistic and intercultural education, social dance, personal development, artistic expression, in order to achieve their personal objectives in a creative manner.
Objectives :
Consolidating linguistic competences in six foreign languages – French, Romanian, Spanish, Catalan, Portuguese and English – for three language levels and within four modules:
Languages for general purposes
Languages for specific purposes: social dance
Languages for specific purposes: professional and business
Intercultural communication, culture and civilization
with the aim of improving labour access opportunities, access to different types of information in the project languages, for a balanced social life and enhanced personal development.
Consolidating social dance competences, in order to involve as many beneficiaries as possible in creative and socializing activities, pertaining to a healthy life style. Social dance is known for its numerous benefits in this regard.
Consolidating digital competences, through online learning modules, to improve usage of contemporary communication tools.
Phases and activities:
January – July 2016: creating online research modules in: foreign languages for specific purposes, using ICT in education, social dance, intercultural communication;
August 2016 – April 2017: learning via the open-access, free-of-charge online modules;
May – October 2017: multiplier events – three-day sessions of different style dance workshops, taught in the project languages, along intercultural communication activities. Multiplier events will take place in Lisbon, Brusseles and Bucharest. A number of 60 places are available for the project participants, with the main objective of putting to use the notions, knowledge and competences acquired through the online modules. The selection of candidates will be made through a competition where the main criterion will be the number of modules accessed by each participant registered on the platform. Participants from partner institutions will have priority in the selection. Participation costs will be partially covered from the project budget.
Outcomes:
An online platform containing learning courses for six languages, for three levels (A1, A2, B1), in four modules.
Dance video tutorials in the project languages for different styles, for three difficulty levels (beginner, intermediate, advanced).
Dance and intercultural communication workshops in the project languages.
Articles and scientific publications on the project topics.
Project title: OPORTUNIDANCE «Dance your way to other cultures»
No.: 2015-1-RO01-KA204-015155
Financed by the European Union through ERASMUS+, Key Action 2, Strategic Partnerships for Adult Education.
Institutions involved in the project:
The Bucharest University of Economic Studies – Coordinator www.ase.ro
Partners:
Project duration : 31 December 2015 – 30 December 2017